North Carolina A&T State University autonomous GEM shuttles up and running in 12 weeks
Hexagon | AutonomouStuff is helping to speed up North Carolina Agricultural and Technical State University (N.C. A&T) College of Engineering autonomy research with three Waev Global Electric Motorcar (GEM) autonomous platforms.
Overview
N.C. A&T is testing Global Electric Motorcar (GEM) "Aggie Auto" autonomous shuttles for rural transportation
A unique, 2-mile track at Gateway Research Park – North Campus simulates rural driving conditions allowing researchers to test autonomous vehicles (AVs) in real-world conditions
AutonomouStuff provided three GEM AVs with open source Autoware software stack and the research team at N.C. A&T had them running autonomously in less than 12 weeks
Project background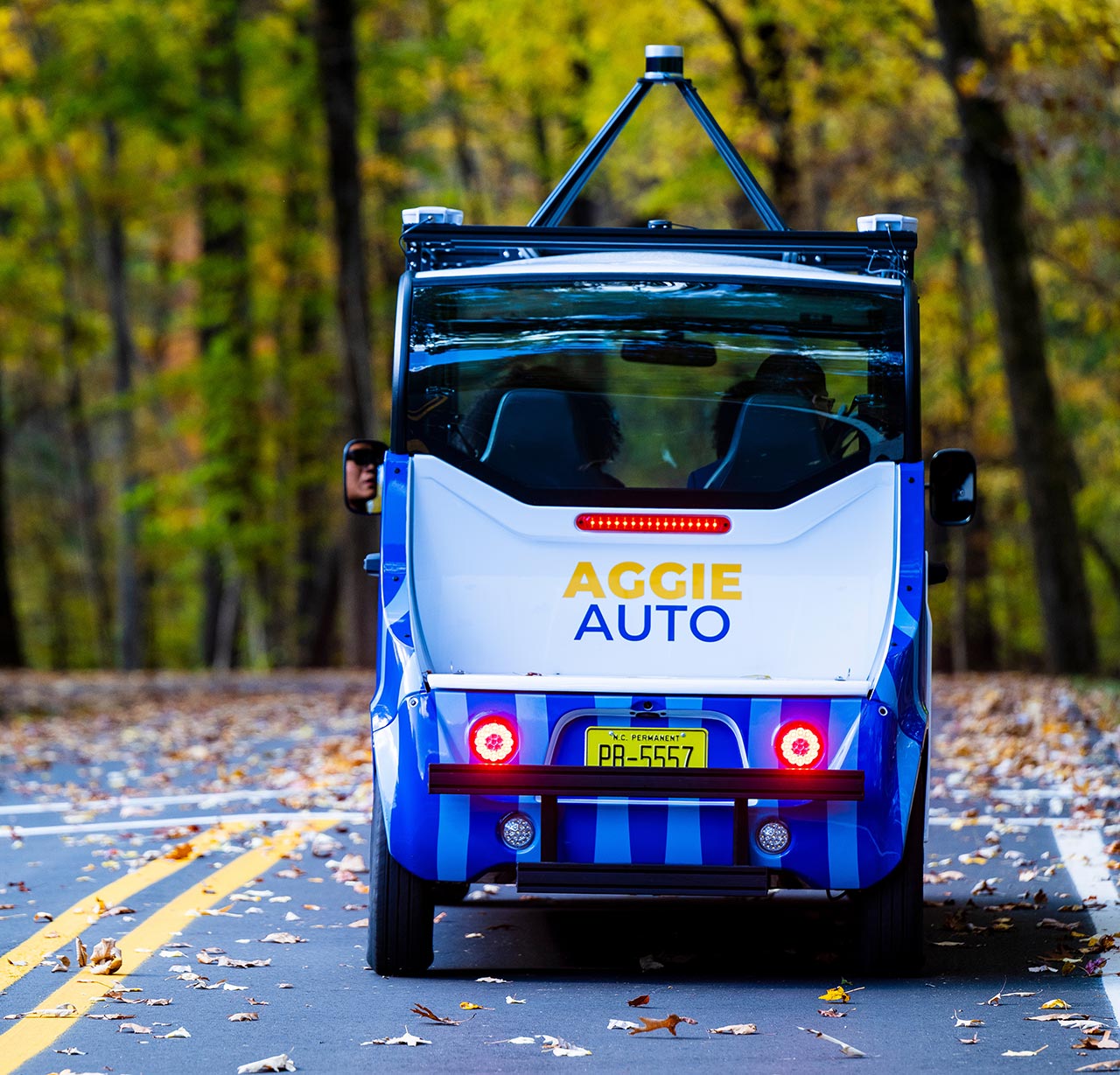 N.C. A&T is developing autonomous shuttles for use on campus and nearby roads. The "Aggie Auto" shuttles are being tested along a 2-mile track at Gateway Research Park – North Campus that simulates real-world rural driving conditions.
The goal of the program is to develop transportation solutions for low-demand rural areas by providing more efficient transportation services. The GEM electric shuttles also reduce transportation costs because they are compact and economical, while accommodating up to six passengers.
The GEMs are classified at Society of Automotive Engineers (SAE) International Level 4 autonomy meaning they can perform all driving tasks under specific circumstances, and a human driver can override and take control. The NCA&T research team also connected the Aggie Auto shuttles to the cloud, to each other and a home-base centre to form a testbed of connected autonomous vehicles (CAVs).
As the program progresses, researchers will continue to add functionality to the test track, such as stop signs, changing lanes and running multiple GEMs at a time.
Reaping the benefits of autonomy today
Beyond using the GEMs on the test track, N.C. A&T is working with the North Carolina Department of Transportation and the City of Greensboro to run a pilot for transportation from campus to downtown and back. This initiative will help the program gain public awareness and showcase the benefits of autonomous shuttles. The state of North Carolina Department of Transportation (DOT) is also investing in a cross-institute collaborative project via the NC Transportation Center of Excellence on Connected and Autonomous Vehicle Technology (NC-CAV) to address the fast-growing population of N.C., to develop a transportation system with increased efficiency and higher capacity. Deploying CAVs on public roads will usher in a new era of connectivity, accessibility and flexibility.
Working with AutonomouStuff
AutonomouStuff has been helping university and industry autonomy research and development (R&D) programs quickly get off the ground for over a decade. With the most autonomous platforms in field, we do the heavy lifting, so researchers can focus on their objectives — not on getting their autonomous vehicles up and running.
N.C. A&T had previously worked with AutonomouStuff to develop a Chrysler Pacifica autonomous platform. For the Aggie Auto program, we provided three GEM e6 shuttles including a PwrPak7D-E2 GNSS receiver inertial measurement unit (IMU) enclosure with dual GNSS-502 antennas from Hexagon | NovAtel; LiDAR, Radar and camera sensors; an industrial compute platform with open source Autoware autonomy software stack; and a PACMod drive-by-wire system from AutonomouStuff to control steering, acceleration and braking.
As a cost-effective, environmentally friendly option, the GEM is our second-most popular platform. The team has advanced the PACMod by-wire system on the GEM for over six years. In addition, our expertise in choosing and vetting modules from open source Autoware software provides a solid software stack foundation for researchers to build upon.
For all university and industry R&D projects, AutonomouStuff provides a single point of contact project manager for simplified, streamlined communications enabling a quick project turnaround. Customers can also choose flexible levels of support including on-site platform training and additional engineering support if required. We even sent help for the N.C. A&T Aggie Auto demo day, ensuring a smooth event.
AutonomouStuff has worked closely with several U.S. DOT grant recipients and other University programs to accelerate their autonomy research projects.
Contact us to find out how we can help advance your program!
Related case studies