Accelerating DriveOhio Rural Automated Driving Systems (ADS) project
Our Ford Transit autonomous platform is speeding up yet another rural ADS project, this time for the Ohio DOT DriveOhio initiative.
Overview
Rural transportation options for underserved populations are increasingly limited due to distances between destinations and driver shortages.
The Ohio Department of Transportation (DOT) is pursuing an automated driving systems (ADS) testing project with autonomous vehicles to evaluate safety and inform ADS policies and rules.
Hexagon | AutonomouStuff was selected to provide two Ford Transit autonomous platforms including GNSS positioning, sensors, autonomy software stack and by-wire control.
Project background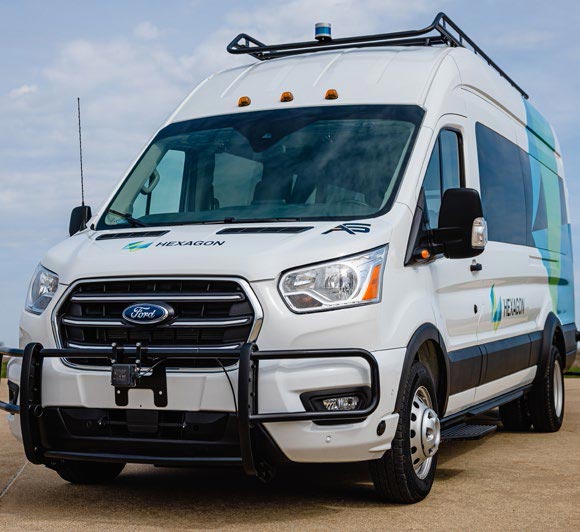 The Ohio DOT is a successful recipient of an ADS Demonstration Grant from the U.S. DOT. The grant was awarded in support of the DriveOhio Rural ADS project to improve safety and access for drivers, passengers and other travelers in rural settings. As part of the Ohio DOT, DriveOhio serves as the centre for smart mobility technology by connecting government, industry and academic entities to support the research, development, testing and deployment of advanced mobility technologies.
Through DriveOhio, the Ohio DOT partnered with the Transport Research Center Inc. (TRC), North America's most advanced, independent mobility testing and research complex headquartered in East Liberty, Ohio. TRC's 4,500-acre campus offers a full range of seasonal conditions on a variety of advanced research facilities for the DriveOhio Rural ADS project.
As part of the extensive group of partner institutes, Ohio University is contributing to the collection of on-road data for DriveOhio using a Chrysler Pacifica developed by AutonomouStuff. Ohio University's Russ College of Engineering and Technology features an Autonomous Vehicles, Robotics and Control research group in their Electrical Engineering and Computer Science program focused on the development of Guidance, Navigation and Control (GNC) algorithms.
Challenges with rural autonomy
Most ADS testing has focused on urban applications, resulting in limited data from rural and highway environments, where road conditions present unique challenges. The DriveOhio Rural ADS project stated that rural areas comprise 97% of the U.S. with 19% of the population, but account for 43% of roadway fatalities — 1.7 times that of urban areas. The data gathered by DriveOhio's ADS project will evaluate safety and inform rulemaking policies nationwide, ultimately enhancing mobility for people in rural communities that have been historically underserved.
The project includes both closed roadway testing at the TRC, as well as public two-lane roads and divided highways. The ADS will need to navigate curves, rolling hills and shaded areas, as well as seasonal changes such as snow and falling leaves. The deployment requires high-definition mapping of the test routes, including lane widths and the location of signals, crosswalks and nearby buildings. For the research project, a professional driver will always be behind the wheel while the ADS is engaged.
Working with AutonomouStuff
Having built a trusted relationship with the TRC and a solid reputation in the market, AutonomouStuff was a natural fit to provide the autonomous platform to accelerate the DriveOhio ADS project. The team designed and outfitted two Ford Transit vehicles with a PwrPak7D-E2 GNSS receiver inertial measurement unit (IMU) enclosure with dual GNSS-502 antennas from Hexagon | NovAtel, LiDAR and Radar sensors, an industrial compute platform with open source Autoware or Apollo autonomy software stack, and a PACMod drive by-wire system from AutonomouStuff to control steering, acceleration and braking.
Instead of taking a "one-size fits all" approach, we sought to understand the goals of the DriveOhio research project to deliver the right autonomy platform with the right hardware and software components. In particular, while open source autonomy software provides accessibility for anyone looking to undertake autonomy research, understanding which modules are functional and best suited to the specific application takes a large investment of time and resources.
Our software experts continuously vet — and contribute to — open source autonomy software modules for both Autoware and Apollo, taking years off the development time for autonomy research projects. As part of Hexagon's Autonomy & Positioning division, AutonomouStuff also has access to the most advanced GNSS positioning technology and sensor fusion algorithms from NovAtel.
AutonomouStuff has worked closely with several U.S. DOT grant recipients and other University programs to accelerate their autonomy research projects.
Contact us to find out how we can help advance your program!
Related case studies