Smart Micro Radar for Altimeter Applications
12 October 2011
AutonomouStuff now distributes SmartMicro RADAR altimeter solutions.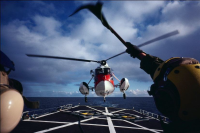 Smartmicro Altimeter Radars reliably determine the current altitude (height above ground) and vertical speed over all kind of surfaces. Being light weight (now new 160g version available), precise, robust, weather- and sunlight- independent they are ideal for many types of aircraft: small airplanes, helicopters, unmanned aerial vehicles (UAV) or MAV. Low power consumption makes them perfect for battery powered applications. Having a wide beam antenna the altimeter Radars are able to compensate pitch and roll of up to +/-20degree.
The altimeter Radars can easily be mounted on the bottom part of the aircraft. Since the housing, radome and connector are waterproof the altimeter Radars can be mounted without any protection or, if desired, they can be mounted invisibly behind a plastics or other nonconductive material.
SMART MICRO FEATURES
Determines true height above ground (altimeter Radar).

Detects, tracks and calulates range and attitude of objects around an aircraft (proximity warning Radar).

Built-in test (BIT) and diagnostics on board.
UMRR-0A1701-220701
Altitude interval: 0.5 .. 500 m.

Accuracy 1m or 3% (maximum of) .

Maximum pitch and roll: ±20°.

Size: 110 x 99 x 29 mm.

Weight: 350g.

NEW: Ultra light 160g version available.
For additional information please visit our website at www.AutonomouStuff.com or send an e-mail to info@AutonomouStuff.com