NXP Automated Drive Kit
22 March 2018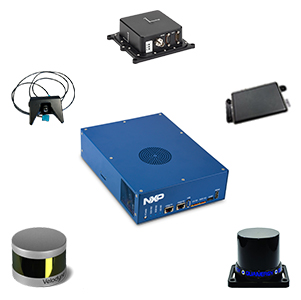 The NXP Automated Drive Kit is an easily customizable development platform for autonomous vehicles. At the core is the NXP BLBX2-DB BlueBox, an all-in-one computer designed to analyze driving environments, assess risk factors and then direct the vehicle's behavior in a safe and reliable manner. This sense, think and act approach is made possible through the combination of add-on components, such as LiDAR, radar, vision, and V2X, the S32V234 Processor for vision and sensor fusion applications, and a LS2085A embedded compute processor. The BlueBox has a high performance to power ratio of 90,000 DMIPS at less than 40 Watts, and comes with 16 GB DDR4 and a 256 GB SSD.
---
Product Q&A with Nicole Waier, AutonomouStuff Director of Sales
Q: How are the teams at AutonomouStuff and NXP working together to provide advancements in autonomy?

A: We have teamed up to provide a Hardware and Software Solution that will enable customers to jumpstart their development. The solution is extremely flexible based on your needs for research and extremely cost effective.

Q: What components make up the NXP Automated Drive Kit?

A: You will receive NXP's BlueBox which features their S32V234 automotive vision and sensor fusion processor, the LS2084A embedded compute processor and the S32R27 radar microcontroller. We then add a ROS Workspace that incorporates all of the sensors that AutonomouStuff is providing: Radar, Lidar, and GPS. And of course an out of the box ADAS Vision Software solution from Neusoft with Pedestrian, Lane and Vehicle Detection. And the kit can be integrated onto a customer's choice of automated research platforms from AutonomouStuff.

https://autonomoustuff.com/product-category/platforms/

Q:Why were these components selected to be a part of the kit?

A: AutonomouStuff is very fortunate to have partnerships with the world's best technology providers for Automated Driving Research. We wanted to pull together the sensors that are being commonly used and supported by customers around the world to accelerate autonomy.

Q: What is the benefit of purchasing the NXP Automated Drive Kit from AutonomouStuff? (as opposed to purchasing components individually, added benefits like services from our amazing team, etc)

A: When you purchase the NXP Automated Drive Kit from AutonomouStuff, you know that you are going to have a team supporting you that has used and integrated these perception, positioning, processing and software components into hundreds of vehicles being used for autonomous research today. At AS we are a one stop shop for all your needs to accerate your projects timeline.

Q: What sets this kit apart from others available at AStuff?

A: NXP is one of the largest semiconductor companies in the world and has a proven track record in the automotive industry. We feel that NXP Silicon paired with sensors and a quick start software workspace provided by AS is a recipe for success.
---

Moving Forward
We are working diligently to continue to support the increasing industry demand and to scale appropriately to make sure we always provide world class products, services and support.
Moving into 2018, I remain dedicated to coordinating many initiatives and strategic alignments. I will ensure our company maintains the promise of bringing together the world's best technologies to our customers and partners. We build relationships with our customers to help us better understand how we can continue to add value to help make them more successful.
We will certainly expand all areas of our business including, but not limited to, the following areas:
Data intelligence — including an entire solution from individual sensor, to data collection, to data storage, to a simulation environment on super compute hardware.
Automated driving research vehicle platforms — we are prepping for an explosive expansion of our platform offerings. We currently offer a common software interface for more than 12 different vehicle platforms and more are on the way.
Maybe most importantly, we will support our customers' global initiatives by being right by their sides wherever they expand in this world.
Thanks again to all of those who have helped us get to where we are today. I would like to specifically thank our team members, who are the most dedicated and talented people I have ever met. AutonomouStuff wouldn't be where it is today without these amazing individuals. As I always say, this is just the beginning.