AutonomouStuff joins ibeo at Autonomous Cars Silicon Valley
23 February 2016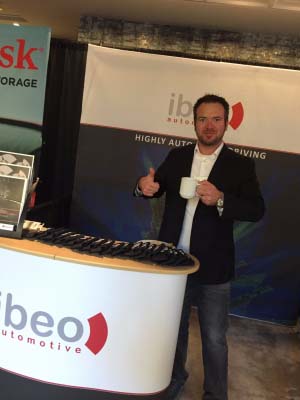 San Francisco, Calif. – AutonomouStuff, known throughout the world as a leader in supplying components and services that enable autonomy, is pleased to join ibeo in booth 4 at Autonomous Cars Silicon Valley at Hyatt Fisherman's Warf, San Francisco, Feb. 24-26.
"This event offers us a great opportunity to showcase and discover some of the industry's most cutting edge technologies," said AutonomouStuff CEO Bobby Hambrick. "We are always excited for any occasion to work with our great friends at ibeo."
Autonomous Cars Silicon Valley will feature the newest tools, technologies and techniques required for the pursuit of the autonomous passenger vehicle. The three-day show offers attendees and exhibitors an intimate view at the latest advancements in the driverless vehicle industry. For more about the event, visit www.autonomouscarsevent.com.
At the event, AutonomouStuff will showcase their Autonomous Research Development Vehicle. The vehicle is compatible with a number of different sensors including ibeo's various LiDAR products.
About ibeo Automotive
ibeo is the world's technology leader for driver assistance systems using laser scanners. ibeo scanners meet maximum technical requirements and the demand for greater safety and comfort for road users. The mission to integrate laser technology in cars remains the driving force and inspiration of the entire ibeo team. For more information, visit www.ibeo-as.com.
About AutonomouStuff
Headquartered in the heart of Illinois, AutonomouStuff reaches the world as the leading single-source supplier of autonomous components and services. The company was founded with the goal of bringing together the world's best technologies to enable autonomy and increase safety.
A main focus at AutonomouStuff is customer success. Customers value the convenience of finding perception, computing, GPS and interface components in one location. For more information, visit www.AutonomouStuff.com.