AutonomouStuff offers automotive rear and side detection RADAR systems
02 August 2012
AutonomouStuff Offers Automotive Rear and Side Detection RADAR Systems
Washington, IL USA. August 2012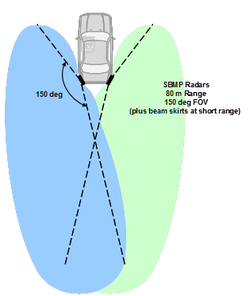 AutonomouStuff, a leader in supplying perception and other products related to autonomy, has just released another innovative RADAR product solution from Delphi Electronics.
Delphi, a leading global supplier of electronics and automotive technologies, has developed a new RADAR specifically optimized for rear and side detection applications. Delphi's Rear and Side Detection System (RSDS) helps make drivers aware of approaching vehicles when changing lanes or making turns. By providing an alert when a vehicle has entered a blind spot to the rear or side of the vehicle, RSDS helps give drivers more time to react to obstacles that may be difficult to see in the side mirror.
Delphi's Rear and Side Detection System helps to reduce the potential for accidents, injury and costly property damage and enables multiple consumer-desired safety features. Applications include: Blind Spot Detection, Lane Change Merge Assist, Rear Cross Traffic Alert, and Rear Pre-Crash Sensing. These systems are essential in the implementation of autonomous driving platforms.
Visit www.AutonomouStuff.com for additional information on the latest automotive RADAR or simply send an e-mail to info@AutonomouStuff.com.
About AutonomouStuff and Delphi:
AutonomouStuff is the first of its kind in a rapidly increasing robotics and autonomous driving market. AutonomouStuff strives to research the latest product technologies to remain at the forefront of this exciting and innovative business segment. The consolidation of all the products is what will make AutonomouStuff the supplier of choice for the autonomous driving and robotics market.
Delphi is a leading global supplier of electronics and technologies for automotive, commercial vehicle and other market segments. Operating major technical centers manufacturing sites and customer support facilities in 30 countries, Delphi delivers real-world innovations that make products smarter and safer as well as more powerful and efficient.