NASA Competition
West Virginia University Robotics Team Wins NASA Centennial Challenge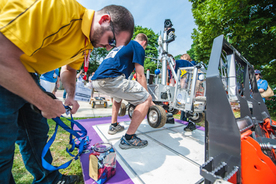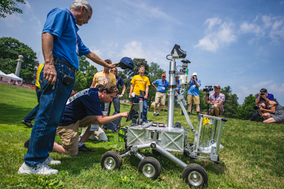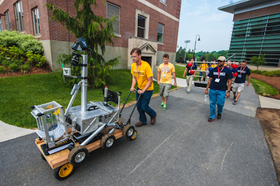 The Mountaineers (a robotics team at WVU) have participated in the NASA Centennial Challenge for a few years in a row now and in 2015 they won! They were awarded $10000 in prize money for winning the challenge.
The objective of the challenge is to encourage innovations in autonomous navigation and robotics technologies. Teams were required to demonstrate their robots could locate and collect geologic samples from wide and varied terrains operating without human control.
The challenge includes two levels of competition. For a robot to complete Level 1 successfully it must depart a starting platform in search of a sample the specifications of which were previously programmed into the robot's onboard computer. Operating autonomously the robot has 30 minutes to locate capture and return to its starting platform with one undamaged sample. Teams that complete Level 1 may move on to Level 2.
For Level 2 robots have two hours to return autonomously at least two undamaged samples including a sample known previously to the team and one introduced the day of the competition. Samples collected in Level 2 are categorized as easy intermediate and hard based on the complexity of their shape size and design. More points are awarded for those classified as hard. In this year's competition samples ranged in shape and size from rectangular to round.
AutonomouStuff is proud to provide support to university level robotics and autonomy team as they are the future of this industry. We can't wait to see what this team does in the future.
Contact us to learn more about our university and educational discounts.